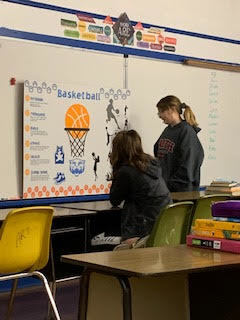 "Teachers for a Day"
Loganne Hickman
Friday, January 31, 2020
Ms. McEvers and her fifth grade class have been taking on new roles in their classroom....by trading places! Fifth grade students just finished a unit based on the theme of being "Teachers for a Day". Each student was assigned to individually prepare and give an informational presentation that focused on enhancing the students public speaking skills. Some of these competencies included creativity, the writing process, connecting with an audience, and confidence. Each student teacher chose a topic that was of interest to them and that they were knowledgeable about. After selecting a topic, the students followed the writing process by brainstorming ideas, choosing a singular subject, and then creating an outline of information. After completing the writing process, each student teacher created a poster to support his/her topic and presented to the class and Ms. McEvers. Students responded well to this unit as they were not only able to take the lead of their own classroom, but also teach their fellow students about something they enjoy. Great job Fifth Grade!