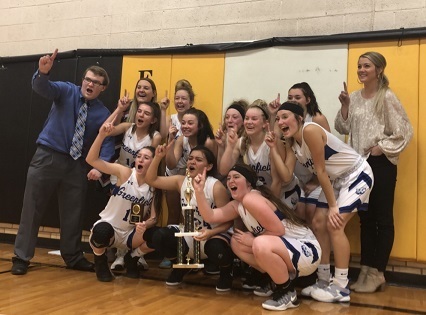 Greenfield Girls Win Everton Tournament
Nick Engleman
Tuesday, December 04, 2018
Greenfield High School Girls' Basketball team won the Everton Tournament that took place during the Week of November 26th. The tournament championship included three wins which improved the Lady Wildcats to an overall record of 5-0. The fifth-seeded Lady Wildcats were the underdog, according to seed, in every game they played last week.
The Lady Wildcats started the week off with a solid win against the Niangua Lady Cardinals on Monday, November 26th. The final was 39-33. The Lady Wildcats led for most of the game and used a solid defensive effort to defeat the fourth-seeded Lady Cardinals.
On Wednesday, November 28th, the Lady Wildcats played top-seeded Billings in semifinal action. The Lady Wildcats jumped out to an early lead, behind solid defensive and strong post play by Adriauna Wallen in the first half. Greenfield had to withstand a strong Billings' comeback as Billings took the lead late in the fourth quarter. Lauren Jones hit several key shots down the stretch and Wallen hit the game winner to give the Lady Wildcats the upset, 44-43.
Friday, November 30th was the championship against Dadeville. The Lady Wildcats jumped out to an early 19-6 lead and never looked back, winning the game 49-31. Strong defense helped give the Lady Wildcats the early lead and the win.
Lauren Jones was named to the All-Tournament Team. The Lady Wildcats return to action on Thursday, December 6th against Ash Grove at home at 6:00 pm.